Rare Сases of Adverse Reactions
The amount of scientific and medical literature pharmaceutical companies must monitor is increasing yearly. Therefore, the DrugCard platform constantly adds new relevant literature sources for screening. This list of sources contains specialised medical literature from Europe, Ukraine and CIS countries. It also includes websites of local and global regulatory authorities (EMA, WHO, FDA, MHRA, TGA etc). Recently new medical literature from EU countries (Poland, Czech Republic, Denmark) and the Kingdom of Bahrain was added to active screening. In this post, we want to present to you the rare cases of adverse reactions found in these new sources. According to the validity reporting criteria, all the described below cases are assessed as valid. Therefore, according to the GVP rules, MAHs having drugs with mentioned active substances in their portfolio must report these cases to the RA in relevant markets. 
Antitumor Drugs and Nail Abnormalities
Systemic chemotherapy-induced nail changes develop in 44% of patients taking taxanes. The most common ADRs are melanonychia, Beau's lines, true leukonychia, koilonychia, onycholysis, painful paronychia, subungual hematomas and linear subungual haemorrhages. After the chemotherapy is discontinued, nail dystrophy usually develops a benign flow, and nail growth is fully restored. But some nail changes can be painful and result in disability, affecting the quality of life. The medical journal «Dermatology Review/ Przegląd Dermatologiczny,» published by the Polish Dermatological Association, has been added to the list of sources of DrugCard. One of the articles described a rare case of nail abnormalities in a patient treated with paclitaxel for breast cancer.
Lindsay's Nails Rare ADR Caused by Paclitaxel
The patient applied to the dermatological clinic at the end of September 2020 with changes in her fingernails. In March 2020, the woman underwent a left mastectomy because of breast cancer. The chemotherapy began with paclitaxel 151 mg intravenously weekly in combination with trastuzumab (starting with the third cycle). In a month, the patient had pronounced haemorrhages in the nail area of both feet. In July, there were changes in the nails on hands. Dermatological examination revealed symmetrical matte whitening of proximal nail parts (lunula atrophy), with a sharp separation from the distal areas of brown colour. Clinical evidence led to diagnosing an apparent leukonychia (Lindsay's nail type). According to the article's authors, Lindsay's nails are usually unrelated to chemotherapy. Obviously, the presented clinical case of the «half-and-half» nail on the background of the paclitaxel treatment is unique, as there were no such cases in literature before.
Drugs And Rare Skin ADRs
Pemphigus vegetans is a rare form of pemphigus vulgaris that represents 1-2% of all pemphigus. The formation of intraepidermal blisters characterises the disease abnormalities. A typical clinical picture includes blisters that transform into papillary or pustular rashes. A wide range of drugs can also cause bullous diseases. For example, ACE inhibitors (captopril, enalapril, ramipril), penicillins, aspirin, cephalosporins, rifampicin, levodopa, phenobarbital, nifedipine, nonsteroidal anti-inflammatory agents (NSAIDs) and others. Up to 30% of patients with drug-induced pemphigus require immunosuppressive treatment despite discontinuation of the causative drug. In the Polish journal «Przegląd Dermatologiczny» the DrugCard platform identified a clinical description of the pemphigus case in a patient after taking enalapril.
A Rare Case of Enalapril-Induced Pemphigus Vegetans
A 58-year-old man came in with complaints of papillary rashes persisting for several weeks in the anogenital area, armpits, and earlobes. The patient's history includes hypertension, ulcerative, and degenerative spine disease. For several months, the man was taking an antihypertensive agent – enalapril. Moreover, the patient denied any other medication. Six months earlier, he had been treated for papulosis pyoderma in his genital area. Two months before admission, the skin rash progressed significantly. Specialists suspected a bullous disease with a possible association with enalapril use. Consequently, they cancelled the drug and carried out further studies. Histopathological examination of a sample collected from the skin showed a microscopic picture consistent with vegetative pemphigus. Thus, the pemphigus vegetans diagnosis was based on the clinical picture and the results of the immunopathological study. The improvement of the condition was noted after prescribing prednisone in a maximum dose of 2 mg/kg/day. Given the patient's use of enalapril a few months before the onset of skin rashes, the authors concluded that the drug triggered the start of pemphigus vegetans.
Anticonvulsant Hypersensitivity Syndrome (AHS)
Anticonvulsant hypersensitivity syndrome (AHS) is a rare life-threatening clinical condition. AHS incidence rate is 1/1000 to 1/10000 patients prescribed antiepileptic drugs. The death rate is 10 – 20%. AHS pathogenesis remains unclear, but it was suggested that the liver enzyme cytochrome p-450 metabolises antiepileptic drugs with aromatic rings to arenoxides. They are associated with immunological response and subsequent cell death. Specialists also associate AHS with the virus agents, such as human herpes 6, 7, EBV, and CMV. Clinical features of AHS include the classic triad of fever, rash, and multiorgan involvement.
Carbamazepine-Induced AHS in a Child.
In an article published in the Bahrain Medical Bulletin, the authors reported the development of AHS in the patient after carbamazepine use. A ten-year-old girl recently diagnosed with epilepsy started taking carbamazepine a month ago. Two weeks after initiating the epilepsy treatment, she had a fever and a generalised rash for two weeks. Her fever was persistent, high-grade, and temporarily relieved by antipyretics. Besides, the girl had a generalized erythematous maculopapular rash on the skin of the face, abdomen, upper and lower extremities. Functional tests of the liver showed G-glutamyltransferase 1323 IU/l (normal 5-36), aspartate aminotransferase 201 IU/l (normal 0-36), alanine aminotransferase 29 IU/l (normal 0-32). Finally, the diagnosis of AHS was confirmed based on the patient's history, laboratory findings, and recent prescription of carbamazepine for epilepsy. Carbamazepine was discontinued and replaced with levetiracetam. Ten days after hospitalization, the patient's clinical condition improved significantly.
DrugCard Helps to Find Rare Cases of Adverse Reactions
Pharmacovigilance specialists constantly perform medical literature monitoring searching for safety issues and rare cases of adverse reactions. Specialists must read hundreds of publications daily and determine their relevance to safety issues. This process consumes a lot of working time and is a problem that drug safety specialists face. A review of medical literature based on modern technologies can be a solution for the effective collecting and processing of large volumes of data from medical journals. DrugCard pharmacovigilance platform is a modern approach for local medical literature monitoring. It is so simple to use it! Pharmacovigilance specialists only need to add search keywords to receive publication updates continuously. Undoubtedly, the use of the DrugCard platform makes it much easier for MAHs or CROs to conduct medical literature monitoring. This completely eliminates the "manual" reading of hundreds of journal issues and saves time for analyzing clinical information.
Looking for Expert Guidance?
Our team is on hand round the clock to guide you on how to enhance your literature screening or to offer consultation on your pharmacovigilance processes.
Unlock the Secrets of the Pharma Industry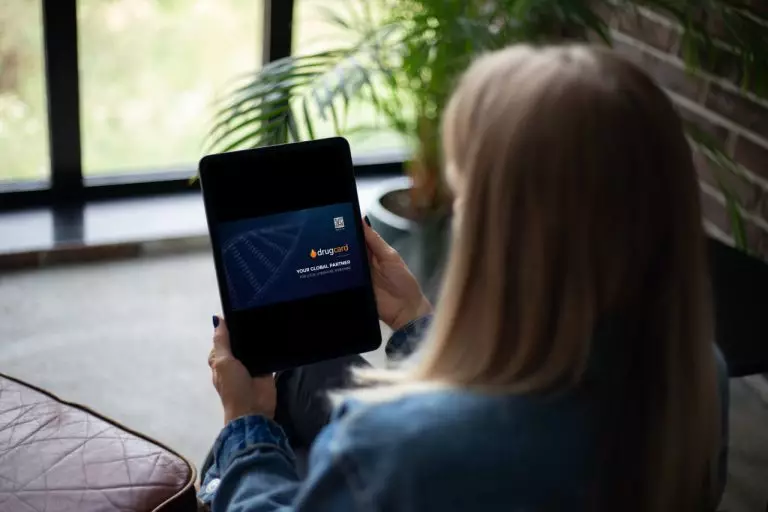 Get Your Hands on Our Must-Read Business Case Today!