Local medical literature of Kazakhstan
The medical literature is an important source of information for the identification of adverse drug reactions. MAHs are required to monitor local scientific and medical publications in countries where they obtain marketing authorizations. But some companies do not pay much attention to monitoring local literature. They are under the impression that drug safety information could only be found in large databases. Also, there is an opinion that only marketing information about medicines is published in the medical literature in CIS countries. We want to address this misconception. Therefore, we present several safety cases published in the local medical literature of Kazakhstan. These cases were identified by the DrugCard platform during automated medical literature monitoring.
Clinical case of trastuzumab cardiotoxicity in local literature of Kazakhstan
In the «West Kazakhstan Medical Journal» the DrugCard platform found a case of trastuzumab-induced acute cardiotoxicity. A patient aged 61, diagnosed with left breast cancer, was admitted to the hospital for planned chemotherapy. Trastuzumab was prescribed in a routine regime, once in three weeks, course of 18 procedures. After four months of chemotherapy, she experienced weakness, a headache, dizziness, tachycardia, and shortness of breath. ECG records: frequent ventricular extrasystoles, unstable ventricular tachycardia. LVEF decreased to 56% from 69% at baseline. The patient was admitted to the Cardiology division with a diagnosis of "paroxysm of ventricular tachycardia". Data on Holter monitoring: 435 episodes of paroxysm of unstable monomorphic ventricular tachycardia with a frequency of 126-206 beats/min. Thus, the presented clinical case revealed the disadvantages of the currently practised clinical approach to cancer patients with prescribed chemotherapy. Because EchoCG cannot solely provide proper cardiac monitoring to prevent unfavourable cardiotoxic events successfully.
Local literature clinical case of Lyell's syndrome in Kazakhstan
The DrugCard platform found an article in the «Medicine and ecology» journal describing a case of Lyell's syndrome. A 2-year-old child was admitted to the clinic with a diagnosis of toxic-hemorrhagic epidermal necrolysis. Inflammation of the skin was more than 50%. It is known that before admission to the hospital the child had a fever (39.8°C). The mother gave the child paracetamol orally and then a suppository of cefecon (paracetamol) rectally. The next day, bubble rashes appeared on the face, under the armpits, palms, chest, and in the inguinal region. The family doctor diagnosed conjunctivitis and prescribed albucid, tetracycline ointment, acyclovir, amosin (amoxicillin). Since the condition did not improve, an antibiotic (cephalosporin) and chloramphenicol drops were additionally prescribed. Due to the deterioration of the child's condition, the child was taken to the infectious diseases hospital. On admission, infectious disease was ruled out and Lyell's syndrome was diagnosed.
Discussion of this clinical case
Toxic epidermal necrolysis (TEN, Lyell's syndrome) is a severe cutaneous adverse drug reaction (SCAR) leading to extensive sloughing of the skin. It was initially described by Alan Lyell in 1956 as «an eruption resembling scalding of the skin». This syndrome is one of the most important topics in medicine. TEN is rare, but its mortality rate is high (30% of cases). TEN can be induced by medications, infections, vaccines, or even idiopathic. Reaction to certain drugs is by far the most common cause. Various medications have been linked to TEN, including antibiotics (sulfonamides, chloramphenicol, penicillins, and quinolones), antiepileptics, NSAIDs, and antiviral drugs. It is especially dangerous to use "therapeutic cocktails", consisting of a mixture of different drugs, usually antibiotics, sulfonamides, anti-inflammatory, and antipyretic drugs. This clinical case is a vivid example of the use of such a cocktail, which led to the occurrence of Lyell's syndrome.
A case of pediatric perioperative anaphylaxis to neuromuscular blocking agents (NMBAs) in the Kazakhstan local literature
In the «Journal of Clinical Medicine of Kazakhstan» the DrugCard platform found a case of pediatric perioperative anaphylaxis. An infant was born with esophageal atresia with trachea-esophageal fistula. A child underwent several operations due to congenital esophageal atresia. But 2 attempts to perform esophageal reconstruction failed because of perioperative anaphylactic shock developed during the procedures. Both surgical procedures were performed under general anaesthesia. In the first procedure on the 40th minute after anaesthesia induction, 10 mg of Rocuronium was administered for myorelaxation. In 15 minutes increase in airway pressure, reduction in blood pressure, skin flushing, edema on the face and groin were confirmed. Anaphylaxis was suspected, and after appropriate treatment signs of allergic reaction resolved. In the second procedure based on the results of skin prick tests, the tactic of anaesthesia had been changed. However, 30 minutes after Pipecuronium administration signs of anaphylactic shock were observed again.
Further development of this clinical case
The child was admitted to the hospital for surgery. Considering previous reactions, skin prick tests were performed to check all the drugs which would be used during the surgery. Tests detected rocuronium and pipecuronium to be positive 8 months after the onset of anaphylaxis. Based on these results the decision was made to perform the procedure using atracurium for myorelaxation. Esophageal reconstruction with a modified colonic interposition graft was completed uneventfully. No anaphylactic reaction or other complications occurred.
Perioperative anaphylaxis is a rare yet life-threatening situation leading to multisystem failure which may happen during any surgical procedure. Generally, NMBAs are considered to be one of the main causes of perioperative anaphylaxis. An IgE-mediated response occurs due to the quaternary ammonium (NH4+) structures that represent the main antigenic epitope of NMBAs.
Summary for pharmaceutical companies regarding local literature monitoring
It must be recognized that the medical and scientific literature emerges as a critical information source for the risk/benefit evaluation of medicinal products. Literature monitoring becomes an integral aspect of pharmacovigilance. And this concerns not only the detection of adverse reaction cases but also information about drug safety and efficacy. Local literature monitoring in each of the markets presents a serious problem for pharmaceutical companies of all sizes. But pharma companies can solve their problems with automated literature search solutions. For example, the DrugCard platform already fully covers the literature of the CIS countries. Almost daily, our clients find drug safety information in publications from these countries. And as you can see, individual case safety reports are found as well.
Looking for Expert Guidance?
Our team is on hand round the clock to guide you on how to enhance your literature screening or to offer consultation on your pharmacovigilance processes.
Unlock the Secrets of the Pharma Industry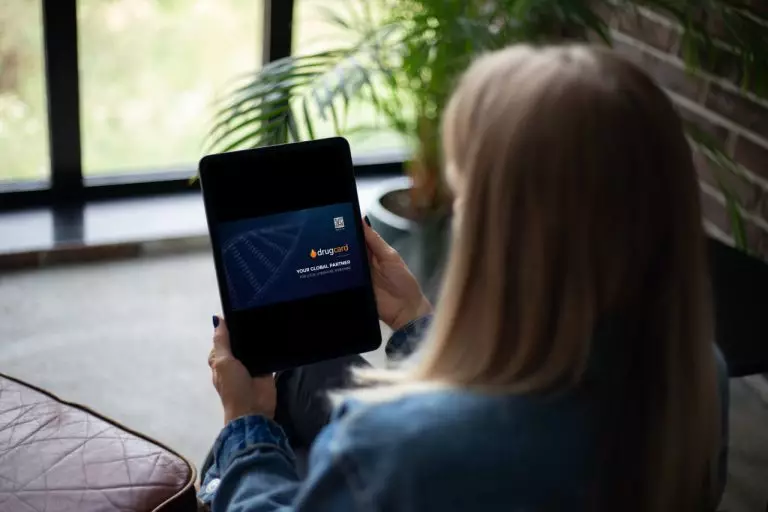 Get Your Hands on Our Must-Read Business Case Today!